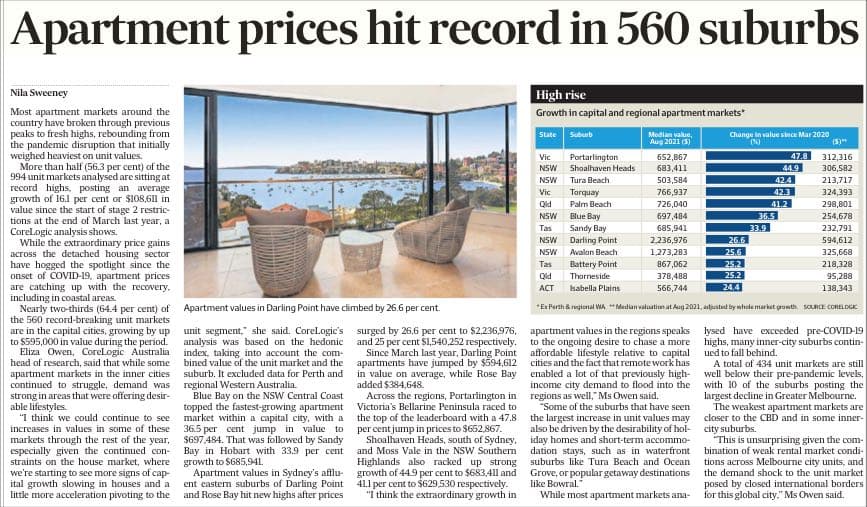 Most apartment markets around the country have broken through previous peaks to fresh highs, rebounding from the pandemic disruption that initially weighed heaviest on unit values.
More than half (56.3 per cent) of the 994 unit markets analysed are sitting at record highs, posting an average growth of 16.1 per cent or $108,611 in value since the start of stage 2 restrictions at the end of March last year, a CoreLogic analysis shows.
While the extraordinary price gains across the detached housing sector have hogged the spotlight since the onset of COVID-19 , apartment prices are catching up with the recovery, including in coastal areas.
Nearly two-thirds (64.4 per cent) of the 560 record-breaking unit markets are in the capital cities, growing by up to $595,000 in value during the period.
Eliza Owen, CoreLogic Australia head of research, said that while some apartment markets in the inner cities continued to struggle, demand was strong in areas that were offering desirable lifestyles.
'' I think we could continue to see increases in values in some of these markets through the rest of the year, especially given the continued constraints on the house market, where we're starting to see more signs of capital growth slowing in houses and a little more acceleration pivoting to the unit segment,'' she said. CoreLogic's analysis was based on the hedonic index, taking into account the combined value of the unit market and the suburb. It excluded data for Perth and regional Western Australia.
Blue Bay on the NSW Central Coast topped the fastest-growing apartment market within a capital city, with a 36.5 per cent jump in value to $697,484. That was followed by Sandy Bay in Hobart with 33.9 per cent growth to $685,941.
Apartment values in Sydney's affluent eastern suburbs of Darling Point and Rose Bay hit new highs after prices surged by 26.6 per cent to $2,236,976, and 25 per cent $1,540,252 respectively.
Since March last year, Darling Point apartments have jumped by $594,612 in value on average, while Rose Bay added $384,648.
Across the regions, Portarlington in Victoria's Bellarine Peninsula raced to the top of the leaderboard with a 47.8 per cent jump in prices to $652,867.
Shoalhaven Heads, south of Sydney, and Moss Vale in the NSW Southern Highlands also racked up strong growth of 44.9 per cent to $683,411 and 41.1 per cent to $629,530 respectively.
'' I think the extraordinary growth in apartment values in the regions speaks to the ongoing desire to chase a more affordable lifestyle relative to capital cities and the fact that remote work has enabled a lot of that previously high-income city demand to flood into the regions as well,'' Ms Owen said.
'' Some of the suburbs that have seen the largest increase in unit values may also be driven by the desirability of holiday homes and short-term accommodation stays, such as in waterfront suburbs like Tura Beach and Ocean Grove, or popular getaway destinations like Bowral.''
While most apartment markets analysed have exceeded pre-COVID-19 highs, many inner-city suburbs continued to fall behind.
A total of 434 unit markets are still well below their pre-pandemic levels, with 10 of the suburbs posting the largest decline in Greater Melbourne.
The weakest apartment markets are closer to the CBD and in some inner-city suburbs.
'' This is unsurprising given the combination of weak rental market conditions across Melbourne city units, and the demand shock to the unit market posed by closed international borders for this global city,'' Ms Owen said.
Copyright © 2021 The Australian Financial Review